Elite Ink Tattoos
Chesterfield Location
33157 23 Mile Rd.
Chesterfield, MI 48047
(586) 684-3309
Hours of Operation:
Mon- Sat 12-8
Sunday CLOSED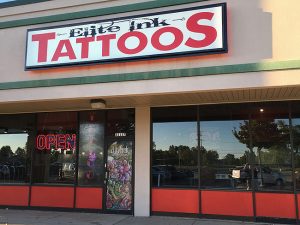 Chesterfield on 23 Mile Rd. 1 Mile East of I-94 next to Premiere Lanes
This unique industrial studio features metal, glass, and granite embellishments that make the clients feel as though they are in a high-end artist loft. The staff is focused on giving each customer the time and dedication that they deserve with a positive vibe. Walk-ins are accepted but it's better to make an appointment beforehand to make sure that you have time for a consultation and the work.
Featuring award-winning art, portraits, traditional, black and gray, and color work.
Also featuring artwork of Fidelia and Caitlyn Carley.