Elite Ink Tattoos
Dearborn Heights Location
8602 North Telegraph
Dearborn Heights, MI 48127
(313) 565-1467
Hours of Operation:
Sunday – Saturday 12-8
(Open 7 days)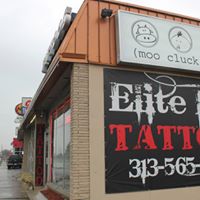 The artists at our Detroit tattoo shops are well versed in styles and techniques. Our staff demonstrates knowledge and talent working traditional, Japanese, Tribal, Portrait and bold color pieces. Integrating detail and shading is all part of our fantastic prices. Did we mention that we're really friendly too? You won't believe the service, quality and attention to detail is so affordable, you'll want to find more areas to design and enhance! Check out some ideas and examples of In Memory Tattoos.
For elaborate tattoos it is necessary to book an appointment for a consultation to discuss the creation of your project. We require a non refundable $50 deposit to begin design construction. Most deposits are deducted from the price of the tattoo. The only exception is when a design requires an extensive amount of time, which an hourly fee will be discussed and charged. Click here to begin this process.
FREE Consultation
Testimonials:
"I have had both of my tattoos done here and they have turned out awesome! Chuck has a lot of experience and makes things quick and painless. The studio is very clean and well kept. All equipment is prepackaged for sterilization. Everyone that I have met there so far has been pretty cool."
Austin Bruck