Elite Ink Tattoos
Dearborn Heights Location
8602 North Telegraph
Dearborn Heights, MI 48127
(313) 565-1467
Hours of Operation:
Sunday – Saturday 12-8
(Open 7 days)
Elite Ink in Dearborn Heights, MI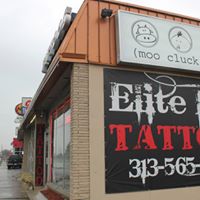 Dearborn Heights on Telegraph just south of Joy Rd. next to BelleTire
The Dearborn Heights Shop is very clean and modern. When you enter this shop, it will make you feel as though you are back in the good old days of no-nonsense tattooing. From elaborately-detailed color pieces and traditional designs to black and gray work. Features modern renovations including newer construction, HDTV, and wifi. Known as one of the cleanest shops on the West Side.