About Elite Ink Studios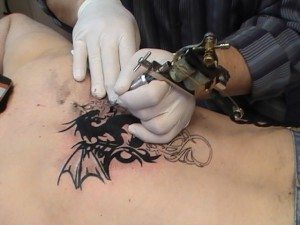 Professional, experienced tattoo artists. We have over 20 years of experience in this industry, and we hope that our expertise will motivate your decision.  We hope these tips will help you understand what it takes to satisfy our valued clients as we strive to be the best we can be.
Things to consider:
Make sure to review your subject matter with your tattoo artist. You should look for enthusiasm with the artist. He/She should be excited to create this for you.  You should critique their portfolio based on smoothness of drawings and line work. Solid colors should be clear and clean and portraits should be easily recognizable. If you are considering a tattoo, review our
Top 10 Reasons to Be Tattooed or Not
.
Our Process:
Even though we are always enthusiastic to tattoo walk-in clients who prefer small and medium tattoos, we have a special process to take on the large scale projects.  It starts with filling out the
quote/consultation form on this site
.  Next, an Elite Ink representative will contact you to schedule an appointment for consultation.  During the consultation, several questions will be asked, and then a minimum $50 deposit will be required to begin the tattoo development phase.  Once this step is completed, you will be able to review the finished rendering.  Upon approval, the tattoo can then be applied!
Etiquette (Yes! Mind your Tattooing manners!)
This is a lifelong decision. Don't be under the influence of anything before your session.
Be calm before your appointment. Meditate, do yoga, breathe.
Be on time! This affects your artist's schedule the rest of the day. You really don't want him/her rushing!
Please don't try to bargain.  We provide the best work for the best price around.
Don't forget to bring a sketch or artwork ideas with you
Eat before you come in. You don't want to be uncomfortable and hungry.
Dress is a manner that is easily accessed for the tattoo placement.
Please shower before your appointment.
Please make sure that your are 100% certain before following through with this commitment.
You may bring one friend or support person, but don't bring extra people. It's a distraction and, again, you want to be in a calm, relaxed state.
Don't talk on your cell when you're in session. Both you and your artist should be focused for the best experience.
If you're pregnant, you can't have a tattoo or piercing. It's for the safety of your baby and yourself.