Body Piercings in Detroit
Level 1 Age 16 and up with proper parental consent
Ear, Limited Facial, and Naval
Anti Tragus- Located directly across from the Tragus.
Cartilage/Helix Piercing- Any piercing of the Cartilage towards the top of the ear.
Conch- This is a piercing of the lower Cartilage just inside the ear, where it scoops inward.
Daith- Located right above the Tragus, where the ear curves in. Has been known to reduce and alleviate migraine headaches.
Ear Lobes- Usually starts at the center of the bottom of the earlobe and goes up from there.
Eybrow Piercing- Performed vertically above the eye on the brow.
Industrial- Goes through two points of the cartilage.
Monroe/ Madonna- Usually placed above the lip where the stars beauty mark is located.
Navel- Also know as Belly Button piercing.
Nose- Either left or right side. Hoop or nostril screw.
Orbital- A double Earlobe piercing on the Ears lower edge with one piece of jewelry.
Rook- Cartilage piercing between the upper half of the Conch and the top of the ear.
Snug/ Anti Helix- This Cartilage piercing goes along the top outer edge of the ear above where the lobe ends.
Tragus- This is a Cartilage piercing along the small flap of the ear that rests next to the face.
Triple Helix- Is three piercings along the inner flap of the ear opposite side of Helix.
Level 2 Age 18 and up only
Oral & Facial
Medusa- Is centered above the lip and below the Nose.
Septum- Center of the base of the nose through the Septum.
Snake Bites- Two piercings on the lower lip. Either on the right or left side.
Spider Bites- Are done close together at a slight angle on one side of the lower lip.
Tongue piercing- Single or multiple piercings along the center of the tongue.
Level 3 Age 18 and up only
Private Piercings
Christina- Located above the Clitoral Hood and placed vertical.
Nipples- Horizantal, vertical, or angles through the Nipple.
HCH- Clitoral Hood side to side
Labia- Inner or outer personal piercing
VCH- Clitoral Hood up and Down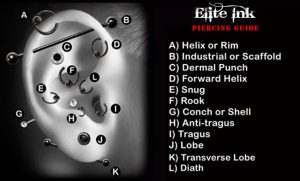 Daith Piercings for Migraine Relief
Elite Ink in recent years has helped those seeking relief from migraines with the Daith piercing. From the results obtained by the staff it has been concluded that a majority of clients that invested in the Daith piercing received at least some if not full relief from chronic migraines. It is thought that the Daith piercing works because relief is gained by inserting surgical jewelry in the accupuncture region of the ear has been proven to control migraines. This story has gained local attention by being featured on Channel 7 WXYZ.
Elite Ink Tattoo Studios Piercing Policy: Proper photo I.D. is required for all patrons prior to service. . Must be 18 or older with proper I.D. 16 and 17 year old minors require a birth certificate, parent with ID and picture ID at time of service. Minors can only receive level 1 piercings at Elite Ink Tattoo Studios.
What Piercing Should You Be Getting?
When looking for body piercings in Detroit, it's helpful to know first and foremost what sort of piercing you're looking to get. Some people know already what type of piercing they want, and in those cases, it's easier to look up what your next steps should be. However, if you're struggling with what piercing you want to get, here are a few ways to figure out which one is right for you.
How Old Are You?
Not all piercings can be done on everyone. For certain facial and body piercings, you'll need to be at least 18 years old. This includes just about all body piercings, with the exception of some naval piercings, as well as most facial piercings. In order to get these piercings, you'll need to have proof of your age ready to show – usually a driver's license or similar form of I.D.
However, if you're under 18, there are still a few piercing options for you. Ear piercings, eyebrow piercings, nose piercings, and Madonna/Monroe piercings can all be done starting at age 16 with proper parental consent. These can be good options for piercings if you're just starting out, or if you're too young to move on to other facial piercings.
Do You Have Migraines?
While this might seem like a fairly specific question when deciding where to get your piercings, it can be helpful for those suffering from migraines. One of the reasons that Elite Ink is one of the best piercing studios in Metro Detroit is due to the helpful effects of our daith piercings. Daith piercings have been shown to help reduce the frequency and pain of chronic migraines, sometimes eliminating them entirely. Our daith piercings have helped many people reduce or eliminate their migraine symptoms and have even gotten us coverage on Channel 7 as one of the best body piercers in Detroit.
For more information on what piercings might be right for you, contact us or visit one of our shop locations throughout the Detroit metro area. We look forward to helping you with all your piercing and tattoo needs, no matter what type of piercing you decide on.