Body Piercings in Detroit
Level 1 Age 16 and up with proper parental consent
Ear, Limited Facial, and Naval
Anti Tragus- Located directly across from the Tragus.
Cartilage/Helix Piercing- Any piercing of the Cartilage towards the top of the ear.
Conch- This is a piercing of the lower Cartilage just inside the ear, where it scoops inward.
Daith- Located right above the Tragus, where the ear curves in. Has been known to reduce and alleviate migraine headaches.
Ear Lobes- Usually starts at the center of the bottom of the earlobe and goes up from there.
Eybrow Piercing- Performed vertically above the eye on the brow.
Industrial- Goes through two points of the cartilage.
Monroe/ Madonna- Usually placed above the lip where the stars beauty mark is located.
Navel- Also know as Belly Button piercing.
Nose- Either left or right side. Hoop or nostril screw.
Orbital- A double Earlobe piercing on the Ears lower edge with one piece of jewelry.
Rook- Cartilage piercing between the upper half of the Conch and the top of the ear.
Snug/ Anti Helix- This Cartilage piercing goes along the top outer edge of the ear above where the lobe ends.
Tragus- This is a Cartilage piercing along the small flap of the ear that rests next to the face.
Triple Helix- Is three piercings along the inner flap of the ear opposite side of Helix.
Level 2 Age 18 and up only
Oral & Facial
Medusa- Is centered above the lip and below the Nose.
Septum- Center of the base of the nose through the Septum.
Snake Bites- Two piercings on the lower lip. Either on the right or left side.
Spider Bites- Are done close together at a slight angle on one side of the lower lip.
Tongue piercing- Single or multiple piercings along the center of the tongue.
Level 3 Age 18 and up only
Private Piercings
Christina- Located above the Clitoral Hood and placed vertical.
Nipples- Horizantal, vertical, or angles through the Nipple.
HCH- Clitoral Hood side to side
Labia- Inner or outer personal piercing
VCH- Clitoral Hood up and Down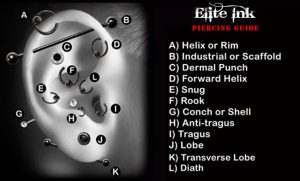 Daith Piercings for Migraine Relief
Elite Ink in recent years has helped those seeking relief from migraines with the Daith piercing. From the results obtained by the staff it has been concluded that a majority of clients that invested in the Daith piercing received at least some if not full relief from chronic migraines. It is thought that the Daith piercing works because relief is gained by inserting surgical jewelry in the accupuncture region of the ear has been proven to control migraines. This story has gained local attention by being featured on Channel 7 WXYZ.
Elite Ink Tattoo Studios Piercing Policy: Proper photo I.D. is required for all patrons prior to service. . Must be 18 or older with proper I.D. 16 and 17 year old minors require a birth certificate, parent with ID and picture ID at time of service. Minors can only receive level 1 piercings at Elite Ink Tattoo Studios.