Elite Ink Tattoos
Warren Location
32750 Mound Rd.
Warren, MI 48092
(586) 838-4027
Hours of Operation:
Mon-Sat 12-8
Sunday CLOSED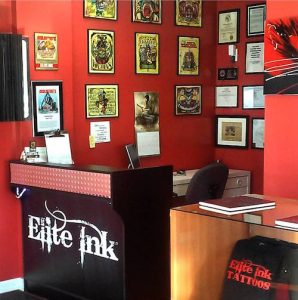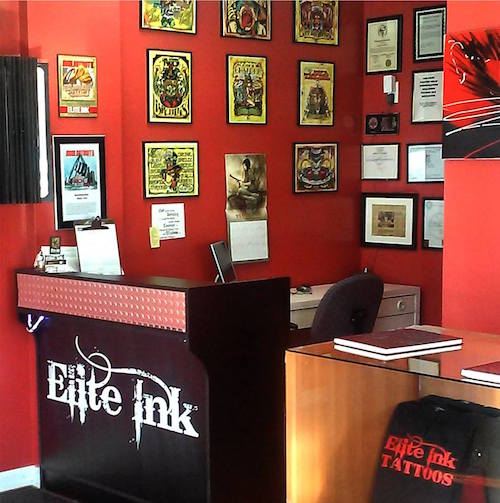 Warren on Mound 1/4 Mile South of 14 Mile Rd. next to Harmon Glass
The Warren Studio features a comfortable modern studio that is very comfortable and inviting. The studio works mostly by appointment and is an intimate space of collective talent. The artists are usually busy and understand the magnitude of putting something on your body that will last forever. Featuring portraits, black and gray, color work, and traditional tattoos. The tattoo rooms are clean and private.
Also featuring the artwork of Ray Harris and Jason Parker.
Elite Ink in Centerline, MI
Our Centerline tattoo shop gives you easy access to one of the best tattoo shops in Michigan. Our in-demand artists are trained in a variety of tattoo styles to help you get the look you want for your body art. When you want to get a tattoo, don't trust just anyone to get the job done.
Elite Ink's Centerline, Michigan location has earned its reputation as one of the top tattoo shops in the state. Contact our team today to learn more about our artists and make an appointment.
Our Art Styles
At Elite Ink, we understand the importance of finding the right artist to provide you with body art that you'll love for decades to come. At our Centerline location, our artists are here to help you find a tattoo design that you're sure to love. Whether you have a specific concept in mind or would like to collaborate with an experienced artist, our team is ready to help. Our studio in Centerline is one of the best tattoo shops in Michigan for the following tattoo styles:
Photo-realistic portraits
Black and gray
Color work
Traditional tattoos
For other art styles or to design a custom piece, our resident artists will be able to help. Elite Ink's skilled artists have plenty of experience creating tattoos for clients and can help you design the best one for you.We work mostly by appointment, so be sure to schedule a time to meet with us.
About Our Shop
Elite Ink is one of the best tattoo shops in Michigan thanks to our clean and private studio spaces. When you're getting your ink, you can rest assured that the equipment being used is clean, safe, and state-of-the-art. Whether you're getting your first tattoo or have lost count of how many tattoos you have, we want to offer you the best tattooing experience possible. That's why our spaces are always private, comfortable, and inviting.
For more information on our shop or our artists, contact our Centerline, MI location at (586) 759-8446, or stop by the shop at 25543 Van Dyke Ave.
Testimonials:
"I was here a week ago and went on a whim after reading reviews. I've gotten two tattoos before this visit and both at two different shops and I have to say you can't get better than this place. Nadia is a such a great person and treats you like a friend rather than just another person in her chair. She's very experienced just by looking at her work and takes time to ask questions and makes sure you leave happy. I'll make sure I'm a repeat customer. Thanks again girl!"
Paige Richardson