Elite Ink Tattoos
Centerline Location
25543 Van Dyke Ave
Center Line, MI 48015
(586) 759-8446
Hours of Operation:
Mon-Sat 10-9
Sunday 11-8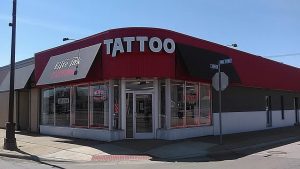 Center Line on Vandyke,  1/2 Mile south of I-696 Next to Sandbaggers  
The Center Line Studio is a very spacious, customer-friendly relaxed place that's perfect for your first or 10th+ tattoo or piercing.  With some of the highest customer satisfaction ratings in the industry this location is very personable and has been voted the best since 2010.
While every artist has their own style offering clean and exciting work. Featuring: watercolor, portraits, traditional, new school, and black and gray.   Walk ins are welcomed, but appointments are priority.
Each tattoo room is customized to showcase each artists personality and style.  Featuring the artwork of John Motyka, Rick Finney, Ryan Waterhouse, Orhan Cilleli, and Ashley Lawton.
Featuring: an Art Gallery, Private Piercing Room, Spacious Tattoo Rooms, Pool Table, Foosball, Table Hockey, Photo Booth, Media Area, and lounge.