Looking to Remove an Old or Embarrassing Tattoo?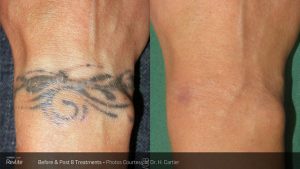 When you get a tattoo, you hope you will love it forever. No one plans on getting an embarrassing tattoo. Unfortunately, not all tattoos turn out the way we hoped. Even tattoos we once cherished can become painful to look at as time goes on. So whether you got a bad tattoo that's beyond repair or have a tattoo that you regret getting in the first place, you may find yourself considering laser tattoo removal.
If you invest in some of the best laser tattoo removal Detroit has to offer, you won't be disappointed. At Elite Ink, we take pride in offering safe tattooing services — whether that's getting a new tattoo or removing some current ink. Our tattoo removal services are effective and tailored to the individual tattoo that's being worked on.
Laser Tattoo Removal in Detroit
Most tattoos require several treatments to achieve significant fading.  Each treatment is scheduled 45-60 days apart for optimal results.  Lightening old tattoos with laser treatment and covering them with new ones is one popular option.  Schedule an appointment for a consultation to discuss the variables that determine the safest avenue for your laser tattoo removal in Detroit. Affordable treatment packages available.
Why Elite Ink Is the Right Choice for Tattoo Removal
When it comes time to choosing a tattoo shop, customers should always look for a reputable shop that has plenty of experienced artists. Fortunately, we have both. Our artists have over 20 years of experience in the tattoo industry. We all take our jobs seriously and love giving our clients art on their body they can be proud to show off.
Elite Ink is one of the best tattoo studios Metro Detroit has to offer. Our shop was voted the best tattoo studio in Metro Detroit by the readers of Real Detroit Weekly from 2012 to 2014, by CBS in 2012, and by the readers of The Metro Times from 2014 to 2018.
So if you're looking for safe and effective tattoo removal services, there's only one name you need to know. Call Elite Ink or stop in the shop today to learn more about our tattoo removal services in Detroit.