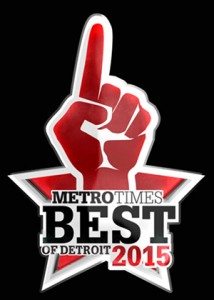 Elite Ink Tattoo Studios has been voted #1 by The Metro Times for 2015. This distinguished accolade continues a string of five straight years being voted the best in Metro Detroit. Their modern upscale tattoo studios feature a classical nuance décor with a strong emphasis on traditional. Elite Inks main location in Center Line is Michigan's largest. Complete with a game room, lounge, waiting room, and several private tattoo work offices. Their studios in Warren and Dearborn Heights are also very popular and feature a modest modernization as well.
Being voted the Best has helped Elite Ink Tattoo Studios become one of the most popular tattoo entities in Metro Detroit.  Offering tattoos, piercings, and free consultations everyday.  Elite Ink offers some of the best tattoo solutions for your next project.
Whether you are seeking your first tattoo or your next Elite Ink is the place to consider. Their staff features an eclectic mix of artists and experts who are talented, knowledgeable, and very friendly. The work that has been produced at the Elite Ink Studios is considered some of the best in the business. Elite Ink comes highly recommended as their customer satisfaction ratings attest.
When it comes to professional tattoo and piercing services Elite Ink is simply the place to go. Visit their locations in Center Line, Dearborn Heights, and Warren. For more information call (586)759-8446.